'Ello eaters!
Today was my last day of classes for the semester. I remembered this as soon as I turned my alarm off this morning.
The last time I'll have to wake up for an 8:30 class? Woohoo!
But then I remembered I have an 8:30 exam next week. Less whoohoo.
Even though I'll have to get up early at least one more time this semester, today was an exciting day. So exciting, in fact, that I'm in the process of getting dolled up (read: putting on mascara) to hit up the bars.
I might even break my 3-drink rule.
Yes eaters, I do know how to party hard.
But before I party it up at the bars, let's get to my other regular Wednesday party.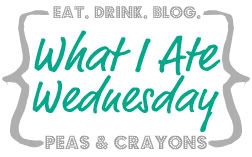 Breakfast:
I didn't even bother taking a picture of my breakfast. You know I ate eggs. To be specific, I ate two scrambled eggs with beet greens, salsa, and a bit of cheese.
But to satisfy your need for visuals, here's a picture of a pink egg I found on Pinterest, because the veins in the beet greens gave my eggs a pretty pink hue.
Unpictured morning things:
I went to Starbucks to do some work (read: get out of my apartment because everyone around me is drowning in finals work and I'm not so I'm bored) and ordered my usual Tall coffee with cold soy.
Hooray for having a registered Starbucks card because I get free soy!
And hooray for presentation groups that bring in snacks.
During class, I ate a few of those frosted and sprinkled animal crackers.
You know the ones I'm talking about, right?
Yeah, they're tasty.
Workout:
An intense 30 minutes of treadmill intervals, a less intense 15 minutes on the elliptical, and not (read: not enough) stretching.
Lunch:
All hail freezer food!
Really, if you don't already, start freezing a couple of servings of some of the soups and stews you make. Then simply heat and eat. It's as convenient as canned soup, but far healthier.
Lunch dessert:
I've said it before and I'll say it again: these little pie bite cookies are delicious.
Proof: I had double this amount throughout the afternoon. Because I really needed more cookies.
Mmmm, Christmas cookies FTW! (Which means "for the win." I didn't know that for a long time.)
Dinner:
It was just one of those nights where I was tired and things got weird.
I probably would make this sauce again, but the spaghetti squash was phenomenal. I'll post about that tomorrow.
Dessert:
I knew my meals were on the produce-heavy, protein-light side all day. So a filling dessert was in order.
And this was damn tangy and delicious.
There was also an unpictured glass of wine.
And speaking of wine, it's about time for me to hit the town.
Your turn:
What was the best thing you ate yesterday?
What are you doing tonight?
Later eaters!