Hi eaters!
How are you doing?
I should say that I've had a great day. Yes, I had an 8:30am class. But it was ceramics. And my only class for the day. Then I spent the rest of the day at the gym, eating, reading, and cooling my heels in the pub suite of my school's newspaper (which I'm an editor for). But really, eaters, this day almost sucked.
I'll take advantage of the day and explain through…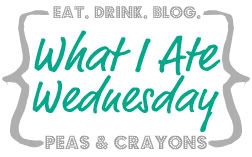 Breakfast:
I didn't take a picture. I ate the same thing I've eaten for most breakfasts for months — 2 over medium eggs with salsa on a piece of Genesis toast. Sometimes I add nutritional yeast. Sometimes I add extra hot sauce. Sometimes I accidentally break the yolk.
None of those things happened today.
Class:
This was lovely. I finished my first project — a coil pot replica to scale of a 400 year old Asian pot. I'm now ready to start on my next project — a slab box to test glazes and glaze waxing on.
Gym:
I prefaced my workout with my usual protein drink — a grande unsweetened ice coffee with soy and a scoop of my protein powder. While standing in line at Starbucks a guy in front of me noticed my shirt.
He started laughing at me, but then gave me daps. I, being the pop culture-ly awkward 'Baby that I am, somehow did NOT mess up the daps. That, too, was lovely.
What wasn't lovely was that when I had finished 2 out of the 3 circuits I wanted to do the mirror area in front of the free weights was swarmed. Guys took my weights, used the benches, and just generally clogged things up. This explains this tweet:
Lunch:
This was just as delicious as yesterday. I added a few drops of sriracha to push things over the edge, and then a finished off the meal with a little dessert to bring things back from the edge.
This is the only way I've been eating yogurt lately. Well, sometimes I'm feeling a little feisty…
Afternoon:
I spent the afternoon trying not to fall asleep while reading a book I don't like.
As an English major I realize that I will have little to no time for personal reading during the school year, so I try to pick classes with assigned reading that I like. Thus far, my contemporary fiction is striking out.
Also, I walked into my room for some reason and smelled something funky. A little investigation quickly identified the source:
My TOMS smell rank. I love my TOMS, especially these ones (I have 2 other pairs), so it breaks my little 'Baby heart, but these are going in the trash. The trash outside. A long way away from my apartment.
Eventually, I went to the pub suite to do my office hours. Every editor has to spend 2 hours in the office every week to answer writers' questions and act as the face of the organization.
Really, I just sat there and tried not to fall asleep while reading some more. And stared down 2 dozen Krispy Kremes that our layout editor brought in.
Dinner:
One of the greatest things I've learned since starting college is that I don't have to eat three square meals a day. I can eat whatever I want whenever I want. I'm not going to die. No one is going to tell my mom.
It's really a very freeing thing.
And now, I think I have some wine bonding with my 'mates (who I will introduce you to at some point soon, along with my new humble abode).
Thanks for listening to my mini-rants.
G'night eaters!