Hi eaters!
So I was thinking about posting last night. Then I was thinking of posting about how I wasn't going to post. But in the end I realized that I was having such a bad day that no matter what I said I was going to be a Debby Downer and I didn't want to ruin what I hope was a good day for you.
Was it? Please say yes.
Anyway, today was better. Much better. Let me tell you all about it.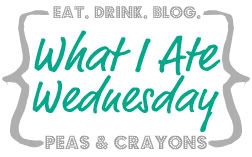 Breakfast:
Why am I eating this, you ask?
Because I failed miserably at finishing my ceramics assignment last night (despite spending two hours in the studio), so I had to get up extra early to finish it before my 8:30am class. Hence the portable breakfast.
Lunch:
This was a balanced meal if I ever saw one.
I picked up the kale on a whim this week because I thought I needed more greens in my life. This little side salad ended up being the perfect match to…
Mama Pea's tofu fun nuggets!
I made mine just slightly different than Mama's original recipe, so I'm not sure if I should post the barely adjusted recipe or just my changes and than tell you to go buy the book.
What do you think? I'm always uncertain about posting recipes from cookbooks.
After lunch I was tempted to run out to the gym. Or do some more work. Or do something, because after going going going non-stop Monday and Tuesday I wasn't used to sitting still for so long. But than I convinced myself to calm the eff down and give myself time to digest before jumping around. So…I laid in bed and watched TV. It was just what the doctor 'Baby ordered.
Gym:
I always drink a Shake-n-Shake on strength training days. What's a Shake-n-Shake, you ask?
A grande unsweetened ice coffee with soy milk and a scoop of protein. I put it in my whisk bottle (a bottle with a little whisk ball inside) and shake it up. Then I drink half before my workout. Then I shake it up after my workout and drink the other half.
Oh, and today was an upper body and abs day. I learned from my first day of physical therapy yesterday (don't worry, I'll post on it soon) that my pelvis tilts too much because of weak abs. This extra tilt is affecting various things which ultimately lead to my knees. So I'm amping up my ab work.
Dinner:
For some reason I'm just not terribly hungry. Also, very little sounds appealing.
Okay, that's a lie. I really want some chips right now. But I don't have any, so instead I settled for…
This is not like chips. Diet magazines, stop telling people it is.
Oh, and since I needed a little bit more substance since I can feel a thirst coming on…
O'm'gosh, this was tasty. I have a feeling this will be a regular addition to my diet.
Alright, eaters, that's all I've got for you today. While this wasn't the most stellar day of eats, it is…well it's not even a typical day of eats.
Frankly, I don't think I've ever shown you a typical day of eats. Nor do I exactly know what I typically eat in a day. I'm okay with that, though, because not only does that keep things interesting, but it also insures that I get a variety of (mostly) healthy foods.
What about you? Do you typically eat the same things or the same kind of things every day? Do you eat three square meals or are you a small meal, grazer type?
I think I tend towards grazing, but it all really depends on my schedule.
Alright…
G'night eaters!