Hello eaters!
It is Wednesday, right?
I didn't do anything on Monday and will work on Saturday, so I keep forgetting what day it is. But I keep seeing lots of WIAW (What I Ate Wednesday) posts going up, so I'll follow the crowd.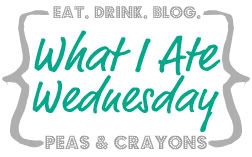 Breakfast:
I promise I didn't plan to eat two of my favorite seasonal foods right after I posted about them. But they were delicious (though that plum would have been better with sunflower butter rather than peanut butter).
Oh, and I added a couple of dollops of spicy mustard to my eggs before I scrambed them for some extra flavor.
Lunch:
Leon and I keep thinking that our fridge is over flowing with things, but in reality we have a ton of produce, a few random leftovers, and almost no protein. Hence why I'm eating eggs two meals in a row.
I also had a few bites of leftover carrot cake from this weekend.
Crossfit:
I drank a protein drink — chocolate GNC Wheybolic protein — and then came so closed to puking it up during this WOD.
We got to choose between running or rowing and I would have run, but after a warm up of 10 minutes of jump roping I knew my shitty shins couldn't handle it.
Honestly, I don't know which was better. I wanted to die many times throughout those 5,000 meters.
Dinner:
I feel like it's been raining for weeks straight, so Leon and I were thrilled to get to grill last night. We split this big plate of grilled vegetables.
And this giant chicken breast.
Fyi, we buy whole healthy chickens from Earth Fare and then Leon butchers them. Not only are they cheaper than at Whole Foods (and way cheaper than buying bags of chicken breasts), but they're also much bigger from Earth Fare. This was, by far, the biggest breast we've ever gotten.
Dessert:
A few beers with a friend, because I'm still in denial a bit that I'm done with college.
And I was home before midnight. Man, do I love getting a full night sleep.
Celebration:
Yesterday marked the one year anniversary of Leon and I bringing Charlie home. I can't believe it's been a year.
Oh, has it been a wonderful year. I want to do a whole post about what having a dog has changed for us, but I think I'll save that for his birthday.
Your turn, eaters:
How much sleep do you get a night? How much would you like to get?
What's one thing that you always have in your fridge?
Later eaters!