G'day eaters!
This week is kicking my butt a little. As in, I fell asleep as soon as I climbed into bed at 10pm last night. I tried so hard to stay awake, but I failed miserably.
(Side note: my mind is in such work mode that I almost typed "10p" instead of "10pm," because that's how we write times at work. And I spend a lot of time writing out times.)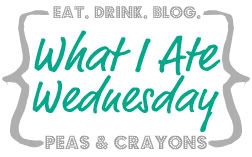 Link up your WIAW posts below! <3
New to the party? [click here] for more info on our Wednesday shenanigans! 
So here's yesterday's food.
Breakfast:
I felt the need to eat somewhat healthy yesterday since I barely even thought about vegetables while at the beach. Also, I was dying to eat an apricot.
Apricots are one of my favorite fruits, but I never buy them because they're so expensive. And because half their weight is air and a pit.
Sadly, these apricots weren't too great, which only reaffirmed my thought that I like them dried better than fresh.
Lunch:
As I was unpacking groceries on Monday I was dreaming up this lunch. I love breakfast nachos and having fresh avocado, homegrown jalapenos, and black bean dip from Trader Joe's makes them all the better.
Dinner:
I got the idea for this recipe from Kath's blog. I was drawn to it because it's so versatile and we always have chicken in the freezer. Here's my scaled down version with white kidney beans, grape tomatoes, basil, balsamic vinegar, and a bone-in skin-on chicken thigh and leg.
Bean and Chicken Bake
Yields 2 servings
1 can beans, drained and rinsed
2 c vegetables, chopped
2 T fresh herbs, chopped
1 T oil, plus a little extra
1 T acid
2 chicken pieces
salt and pepper
Mix the beans, vegetable, herbs, oil, and acid in a baking dish with salt and pepper.
Rub oil over the tops of the chicken and add salt and pepper. Place the chicken in the baking dish on top of the bean mixture.
Bake at 425F for 35-45 minutes, depending what parts of the chicken you use.
This dinner ended up being delicious, without being too wintery. And it was a great way to use up our small stash of tomatoes, since neither Leon nor I eat raw tomatoes.
Snacks:
Throughout the day I kept dipping my hand into a tub of Trader Joe's animal crackers and sipping some of my homebrewed kombucha.
And there you have it — a pretty normal day of eats. If I was more sensible about my snacking I would have kept my hands out of the cookie jar and instead made myself a solid afternoon snack, but that didn't happen. Not yesterday. not today. And I won't have time for it tomorrow, either.
Maybe Friday?
Your turn, eaters:
What are some of your favorite groceries that you rarely buy?
Are you a snacker/mini-meal person or a grazer?
Later eaters!