Whoa eaters!
I almost forgot that I promised you a WIAW post. And since I hate to break a promise…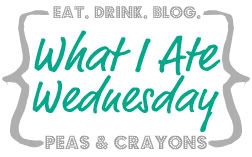 Pre-Crossfit: apple and pb.
WOD: front squats
3-10-3-20-3-30 rep scheme. I got my 3-rep weight up to 98lbs, which pissed me off because a 100lbs front squat has been a goal of mine for months and I would have had it had I remembered that our bars are 33lbs, not 30lbs, meaning that I only had to go up 2lbs instead of 5lbs.
Weirdo breakfast:
Errands:
I'm attempting to find business casual attire. Would either of these dresses plus a blazer count? I didn't get either.
Lunch & snack:
I forgot to pack a lunch so I picked this up at Whole Foods between shopping and class and ate half as lunch in the car. Then I ate the other half after my classes as a snack.
Two part dinner:
There was also a glass of wine and a small handful of trail mix in there.
I have been running around like crazy lately and that won't stop until I finally get a day off next Sunday. That's a full two weeks without a day off.
But at least I'm being productive, right?
#EverydayImHustling
(Fyi, the lack of an apostrophe in that hashtag annoys me so much, but it's such a necessary hashtag in my life and I don't want to look like a grandma/stupid celebrity that wrongly puts punctuation in hashtags, so I let it slide.)
Your turn, eaters:
What's a food you're looking to bring back now that it's warming up?
What's something from social media that annoys you?
Later eaters!