Hi eaters!
Leon just made himself some baked chips as a snack. I ate two, he finished them, and now I can't stop thinking about eating more.
Yup, there's your small talk for the day.
Moving on…
Yesterday I ate almost entirely vegetarian (without even meaning to be). And I would have been completely veg had the bacon not called to me so much from the fridge.
Proof —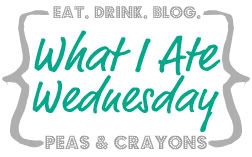 Breakfast:
This was such a deviation from my usual morning meal. I've been doing that a lot lately, which I think has to do with my increased activity in the morning.
I get up, walk Charlie, drink my half liter of water, play with Charlie, and then I make breakfast. (FYI — This only takes a little over an hour.) I think because I'm more awake come breakfast time I'm more able to make what I'm really in the mood for rather than what I'm used to.
Lunch:
I had my Crossfit trial in the early afternoon, so I didn't want to eat too much before in fear of throwing up. (FYI — I did feel like throwing up anyway.) But knowing that I definitely needed protein I ate an unpicture half piece of bacon and whipped up a slightly fancier protein drink.
Sweat:
To hear all about my first time at Crossfit, check out yesterday's post (which includes a vlog!): Newbie.
After:
Upon getting home I immediately downed two Peeps, took the dog on a quick walk with Leon, decided I was going to skip class, took a shower, and drank half a beer.
Dinner:
Neither Leon nor I planned ahead so we didn't have anything prepped for dinner. So we did the next best thing.
You really can't beat $1 tacos and queso dip.
Just like you really can't beat coming home to find that your dog didn't pee, poo, or chew anything in your absence. (FYI — House training and lessening Charlie's separation anxiety is going relatively well.)
So as you can see, save for two pieces of bacon, it was an all around healthy (though veggie-lite) and oh so tasty vegetarian day.
Your turn, eaters:
Do you ever unintentionally eat a certain way all day (vegan, vegetarian, GF, raw, etc)?
What do you do when you didn't plan dinner?
G'night eaters!