Hi eaters!
I realized that I have been in London for two weeks now. I don't really know if it feels like it's been two weeks.
Maybe if I'd been on vacation (or acting like it), I would be exhausted or sick of it. But since I have finally wrapped my head around the fact that this is my life for the time being, it feels pretty great.
And since this is my life, let's get down to regular life things.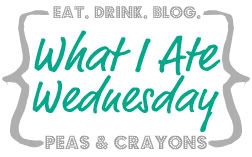 Breakfast:
I'm having a bit of a time finding plain low fat/fat free Greek yogurt here. Granted, I haven't been looking that hard, but the few places I have checked haven't had it.
Thus, I'm eating regular yogurt.
Lunch:
After class a bunch of us went to Gourmet Burger Kitchen, which is a nifty little chain around the corner from my flat.
The burger was a pretty run of the mill burger (which is pretty hard to find around here), with a side of shoestring fries (which are called skinny fries here).
Unfortunately, I forgot my camera so I don't have any pictures. But since it's right around the corner and they have a pretty sweet frequent buyer card, I doubt you'll have to wait long before I get a picture.
Afternoon fun times:
The street that my gym is on has a ton of great shopping. And a lot of those stores have sales going on right now.
Needless to say, I've had the shopping itch for days. So today some of the ladies and I went out shopping.
I scored a couple of cute things, including this new sweater and some great boots.
Both were on super sale, which is about the only way I shop.
Snack:
Yes, this does make two pears today. But they're perfectly ripe and juicy, so I'm going to keep devouring them until they're gone.
Dinner:
While I haven't eaten this yet, when I do get hungry I'm going to eat a hodgepodge of leftovers. I'm the only person in my flat that eats leftovers (or really anything other than cheese and/or pretzels), so you'll be seeing something like this more often than not.
Exercise:
This is something else that I haven't done yet, but tonight I am going to Body Pump.
Yes eaters, I finally get to join in on the fun. The gym I joined only has one Les Mills class, but it's the one I'm most interested in, so I'll take it.
So there you have it eaters, what I've done or will do today. I'll be sure to let you know if my personal prophecies come true.
Your turn:
What are you going to eat later?
Do you make personal prophecies that come true?
Later eaters!