Hi eaters!
It's been a long day and I'm fading fast.
Yes, I realize it's not even dinner yet. Don't judge, I'm in college.
Anywhoo, I'm going to skip the chitchat tonight and get right to the good stuff (read: where I talk about trying to eat all my food before I move out).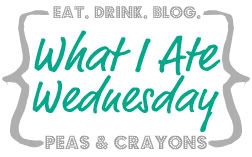 Breakfast:
Look! I changed it up. And let me tell you, this was a hearty breakfast. Now I'm craving more cornbread.
Snack:
Licorice is quite possibly my biggest weakness. A bag won't last more then a couple of days around me.
Proof: triple the amount in that picture and you'll see what I ate yesterday.
Exercise:
I did 45 minutes of a hodgepodge of cardio machines. After some time incline treadmill walking, ellipticalling, and on the stationary bike I was pretty successfully sweaty.
Lunch:
This meal didn't come until 3pm so I was starving.
I nibbled on a few more crackers while everything was heating up.
Then I ate my soup out of the Tupperware because hand washing extra dishes is lame.
Afternoon:
I hunkered down at Starbucks for a few hours to study for an exam I have tomorrow. While there I drank my usual tall coffee with cold soy.
FYI — I'm probably never going to drink a fancy latte. It's just not my style.
Dinner:
M'friend Peach and I went out for $1 tacos last night. I didn't have my camera, so please enjoy these pictures I'm recycling from one of this summer's $1 taco dinners.
Everything was the same except we sat outside and it wasn't still light out.
Oh, and there was queso dip. Because sometimes you just need queso.
Fun times:
After a quick visit to Harris Teeter, Peach and I hung out at her place, drank beer, and watched "Elf."
I drank Sweet Water IPA and continuously pointed out the plot holes in the movie.
Ex: Why doesn't Buddy ever try to find his mother?
Don't I sound like a fun movie friend?
So all in all, a pretty damn good day of eats, but not a wildly successful day of eating up my food.
Oh well, sometimes you just need tacos and beer.
What about you, eaters:
Do you get fancy queso or guacamole dips when you go out for tacos or are you happy with salsa?
And what's your favorite Christmas movie?
Are there Hanukah movies like there are Christmas movies?
G'night eaters!