Woohoo eaters!
It's Wednesday, which means we're halfway to the weekend. And it means that I've tackled a major hurtle in the process of getting my Visa for London — biometric scanning!
I had to drive to Raleigh and wait around a boring office for them to scan my fingerprints.
It was loads of fun.
Anywhoo, now onto something that actually is loads of fun…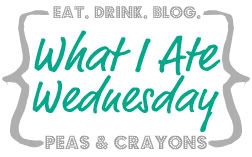 Breakfast:
Yes, it's still eggs, but these are a little fancier.
I got the idea to add a schmear of jelly from Julie, who constantly eats jelly, cheese, and egg sandwiches.
The sweet schmear isn't overpowering, but it plays so nicely off the chipotle salsa and the peppered eggs.
Mmm….
Lunch:
Oh tacos, you are so delicious. I love eating with my hands. And you make me happy.
(Can you tell I was singing that? If not, it sounds pretty weird.)
Also, did I ever explain why I use a spoon when I eat tacos?
Well, for multiple reasons. Spooning the filling into the tortillas. Spooning on the salsa. And spooning anything that fell right into my mouth.
Lunch dessert:
I don't want to hear a single word about chemicals and preservatives and whatnot. I know this will probably wreak havoc on my insides at a level comparable to eating sugar-coated packing peanuts.
But o'm'gosh eaters, the second you sink your teeth into that sweet, soft, cakey cookie covering in almost sickeningly sweet icing and feel the tiny crunch of sprinkles, you won't care about chemicals either.
Breakdown:
I don't mean this like an emotional breakdown. I mean it like the breakdown in a (hardcore) song when everything changes.
It was around this time that I got some bad news from home. And this news worsened dramatically as I sat in my next class.
I really don't want to go into it — partially because this doesn't seem like the right time or place, partially because I already said it on Twitter (also not the right place), and partially because I doubt it will affect my day-to-day so it feels weird to mention — but it was the kind of bad news that makes you look back through old FB photo albums and feel almost painfully nostalgic.
Yeah…
"Dinner":
So when I get back from class there was only one thing I wanted to do — eat my emotions.
Yes, I know this is bad. You're not supposed to turn to food for comfort because blah blah blahblahblah.
But I'm okay with eating my emotions sometimes. It so rarely happens and I don't all out binge and I genuinely felt comforted after eat this while watching bad TV.
And I also felt genuinely comforted after…
Retail therapy:
This wasn't so much about shopping to easy my feelings, but more walking up and down the Christmas aisles to get some Christmas cheer. Living in a dorm makes it almost impossible to feel cheery because they're not cozy and no one decorates.
So after ample time with m'lovely lady Janet trying on rings and deciding which would hurt worse to get punched with, we ventured over to the happiest place on earth in Target.
Lots of fun things happened.
We pressed every single button on the holiday CD display.
We debated the merits of each color of metallic Christmas tree.
We talked to a very cute employee stocking shelves.
And in the end, I got a GREEN metallic tree.
Which I made a star for out of tin foil.
I feel cheerier already.
So to sum up yesterday: it was good, it got bad, it got better, I ate lots.
The end.
What about you:
What do you turn to when you are looking for a little comfort from food?
Do you think there's any merit to buying a green metallic tree?
Later eaters!