Hellooo eaters!
M'gosh, it's been a crazy long day. But it's the middle of the week so it's all down hill from here, right?
Please say yes! Please!
Okay, time to tell you all about it.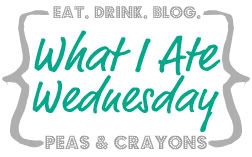 First breakfast:
I woke up late. Manly friend tried to convince me to play hookie. That resulted in me having to grab something as I was running out the door.
Second breakfast:
I was going to make scrambled eggs (yes, I make my scrambled eggs by cracking them directly into the pan and mixing), but then I decided against it.
In the end, I probably should have stuck with scrambled, but I got my serving of greens anyway so it all worked out.
After a little bit of homework it was time to take manly friend up to his new wooded wonderland with Will. On the way, he suggested we stop.
Lunch:
Will introduced manly friend to The Moose Café, which is the restaurant at my beloved farmer's market.
At soon as we sat down the waitress brought us complimentary biscuits and apple butter.
Yes, this is a Southern homestyle restaurant. And yes, I was beyond happy.
Manly friend and I perused the menu for a bit before both settling on wraps.
I went with the BLT wrap, which had local bacon. It was extra crispy and smoky.
And came with a side of roasted butternut squash. Local butternut squash, which tasted like butter.
With full bellies we finished our trip up north. The foliage was beautiful, the mountain roads were winding, and I could tell we were getting close by the smell of apples.
Manly friend and I met Will at the orchard. He pulled up on a tractor, which he road like a golden chariot. I took it as a good sign.
And then, the moment of truth…
The man castle!
This is manly friend's abode, which is the guest house.
And this is the view off the back of the property.
Oh how I can't wait to spend more time here!
Dinner:
Will insisted that I stay for dinner, which meant going to his favorite local eatery — The Hungry Farmer.
This is a quintessential small southern town greasy spoon. Complete with a buffet.
I felt like I was home. Except I never really ate this stuff growing up.
Semantics.
Oh, and since I've mentioned Will a few times now I figured I owed you a picture.
Yes, lady eaters, this man is 6'5", chivalrous to no end, a farmer, dog-lover, and single.
Completely single.
Let me know if you're interested.
Anywhoo, after eating, conversing, and kissing manly friend g'bye (Will declined a kiss because he's not that kind of gentlemen), I headed back home.
Snack:
I finished off this jar and…
Sipped this beer while studying. I have a History of Rock exam tomorrow, which is harder than it sounds.
What did you do today?
G'night eaters!