Hi eaters!
First, I want to apologize for the delayed post from last night. Am I missing something? Because I always thought that WP was supposed to be so much better than Blogger, but so far I've been having the worst time uploading pictures. Oh m'dear WP-loving eaters, please teach me your ways!
Anyway, it's Wednesday, which means most of you eaters are halfway through your week. I am so freaking lucky to be a student, one reason is because today is my Thursday. And I'm extra lucky this week because m'dear dear friend Maddie is in town!
She was only in the 'Boro with me for the first summer session, so I've been missing her dearly these past few weeks. But she's here today! And staying the week! And I make a pie for the occasion (which I'll show you tomorrow)! But for now, let's talk about today. And today, I act like a bloggirl by finally taking part in Peas and Crayons'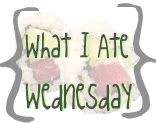 I have been seeing Liz post her eats every Wednesday for weeks and I always want to join in, but I can never remember to photograph a whole day of food. But this week I did! So let's go…
Breakfast:
This almost looks like a "well-balanced breakfast," doesn't it?
I ate pb&j toast so much last summer, but despite having both pb and jelly in my fridge most of the time and a toaster I haven't eaten this yet this summer. It was good.
And after eating these scrambled eggs I can say with full confidence that scrambled eggs don't hold a candle to a tofu scramble. Tofu scrambles are fluffy and firm at the same time. Scrambled eggs just get weird and watery if you don't eat them immediately.
Lunch:
Can you tell by this picture that this is actually what I ate Monday? Yes, but that's allowed in the rules. And really, I'm just happy that I managed to get a whole day together.
Dinner:
Yes, this does look beyond weird and probably unappetizing. But I forgot to snack before Botany, so by the time I got home at 8:30pm I was hungry to the point of needing something hearty. Hearty like fibrous vegetables and protein.
Side note — I have eaten this EF Volcanic salsa for weeks now. It never felt particularly volcanic until tonight. Woyza! If I was still asleep from Botany I was awake then.
I may have definitely did snack on more than a handful of TJ's animal crackers after dinner.
Alright eaters, I hope your voyeuristic itch has been scratched now. Because now it's time for some wine bonding.
G'night eaters!