Hiya eaters!
Hopefully by now you've bought Mama Pea's awesome cookbook. I bought it yesterday and have already made a batch of cookies from it. I'll probably make another recipe or two and then post my review…tomorrow.
Yeah, I heart Mama Pea's recipeas like a high school girl hearts her hot English teacher. And her hot religion teacher. And her other hot English teacher.
What can I say, eaters, I like the older men. And I'm creepy. But if you're still reading than it seems you're willing to over look the latter and for that I thank-you.
Moving right along…
It's Wednesday, which means it's time for another installment of…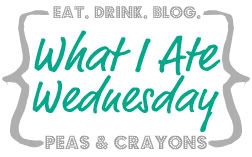 In looking through the pictures for this post I noticed just how different my eating is here than when I'm in the 'Boro, so hopefully you'll find it interesting also. If not, than at least hopefully you'll like the pretty pictures. Because the other thing I've noticed it how much better the lighting is here! So, ready…set…GO!
Breakfast:
I went out for drinks with some of my friends on Monday night and somehow the talk turned to oatmeal.
We debated the best way to make oatmeal, and I, of course, wowed them with my knowledge strong opinions on the matter.
But that left me with a strong craving for a creamy bowl of oats. I did my best to summer-ize these oats and thanks to an ample amount of berries, I think it worked.
Workout:
I took a Cain class yesterday and whenever I lift weights I drink a protein drink. Unfortunately, the whisk bottle I thought I had left at home was nowhere to be found. So I got creative.
It wasn't the best, but it worked well enough.
Lunch:
Quesadillas are a pretty typical midday meal around here.
And Mother discovered that my crepe pan also doubles as the perfect quesadilla pan.
Dinner:
If you're a single or busy parent (or the child of one), you'll understand why pasta was such a staple of my childhood. Usually with a side of broccoli.
This was leftover from a night or two before, so I gussied it up with some mixins' and it did the trick.
Am I the only one who sees how different this is from the way I normally eat? Am I the only one who thinks this is really interesting? Yes? Alright, I don't mind.
But at least tell me you appreciate the better lighted photos. Because I reallyreally like those.
Now tell me — Do you eat differently when you're home than when you're on your own? Why do you think that is?
G'night eaters.